Welcome to the online home of Warren Nelson - Songwriter, Musician, Entertainer, Poet, Historian, Radio Host and a Tent-show "Man of the Cloth" with a career in show business lasting over 40 years.
A Fairmont, Minnesota native, Warren is the founder of Lake Superior Big Top Chautauqua and has led a team of talented musicians, actors, researchers and technicians in the creation of numerous large-scale, historical musicals since the 1970's. 
The story of how the Hornpipe came to be is included in my book Ballyhoo Big Top. Here it is-
THE HORNPIPE 1976 (10 B.C.)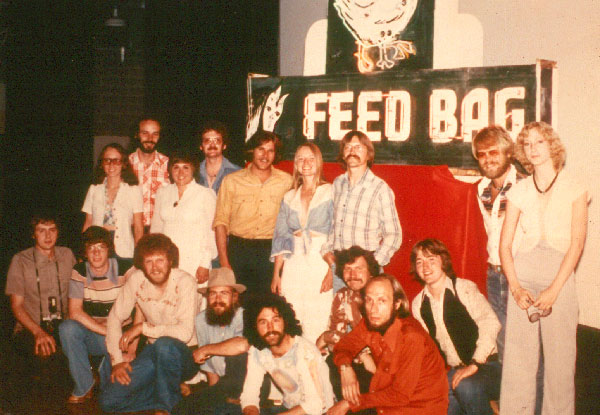 The year was 1976, and I was putting together a show for a celebration of my hometown in Minnesota: Selections From Lost and Found Fairmont Histories: A Martin County Hornpipe. Original songs, readings, illustrating historical photographs projected on a large screen. Sound familiar?
The Hornpipe is really the start of Big Top Chautauqua. Nine years before the tent show rose, the equation of our original shows was born. I was running on blind faith writing the songs and script. I had in mind members of my former group, The Tenth Story Window, most of the performers originally from Fairmont.
Betty and I had moved to the mountains for a year along with Don Pavel and my sister whom he had married. We lived two cabins away and thus he was up to the minute on the Hornpipe's progress. I was traveling back and forth from the mountains to Fairmont doing research, collecting stories and photographs from the Martin County Historical Society. Betty was day to day with the project. In the final months she traveled with me. John Larsen, an old Fairmont pal did the photocopying in the old time way, copying photos to slides with close-up lenses that were screwed on and off. It was a time consuming effort.
There were many miracles in the coming together of this show, including finding Bruce Bowers in Jackson Hole, Wyoming. The show was a grand success. The Angels came down that weekend.
After the show, we all said our good byes and went our separate ways. I can't believe it did not come to me to pursue a career in producing more of these types of shows until seven years later when Ann Christensen and Gary Holman heard the LP of The Hornpipe and struck on the idea that Betty and I should produce a show for Washburn's Centennial.